SHIMOUSA 7 LUCKY GOD MORNING TOUR
Meet 7 lucky god together! Walk around 7 temple and complete the red stamp paper!!
#Chiba
#Narita Airport
#transit tour
#Day Tour
#7 LUCKY GOD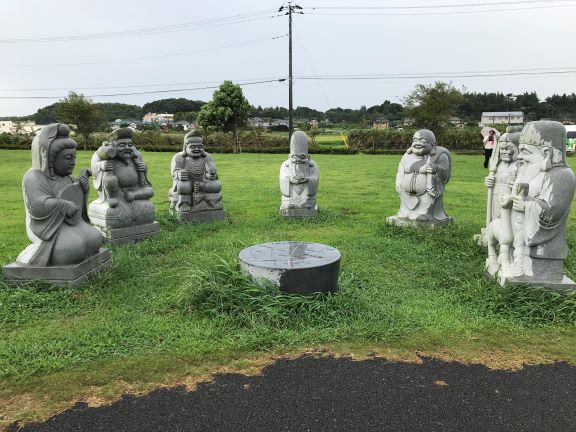 Basic rate
| | |
| --- | --- |
| Cost | 15,000(JPY) per person |
Tour information
Departure date
Weekdays (Except : Tue, Jan 1st-5th)
Departure place
Narita International Airport
Number of travelling days
1 day
Transportation
Shared car
Minimum passenger count
2 person
Meals
With lunch
Tour escort
English-speaking assistant
Rental car
Hotel
Other
・Holiday : Sat, Sun, Tue, Jan 1st-5th
・Included in price:Vehicle cost, Tour fee, Tax, Lunch,
 English speaking assistant

・Tour duration : 4 hours
Features
・Travel in Shared car with English-Speaking assistant!
・Lunch included! (Japanese soba & Tempura)
・Souvenir & with rich soft ice cream at Yume Farm!
Itinerary
| | |
| --- | --- |
| Time | 10:40 Dept. |
| Schedule | Narita Airport |
| Meals | |
Time
Schedule
BISHAMONTEN / RYUSHOIN

The guardian Indian god who is not smiling among the Seven Lucky Gods.
If you look closely at the footsteps of Bishamon, you will see a monster. This means it protects you from monsters. The wish for Exorcism & Treasure will fulfill.
Meals
Time
Schedule
KOTOBUKI / SHOFUKUJI TEMPLE

The Chinese god who can catch deer.
It is said it will extend the life expectancy by 2,000 years if the old man eats deer meat.
Benefit is wisdom,longevity, health and wealth life.
Meals
Time
Schedule
Aguri-Tei
Meals
Lunch

Enjoy the taste of local production Japanese Soba and Tempura.
Time
Schedule
BENZAITEN / SHINJOIN

God of water in Indian ancient mythology.
The God has a spear known as the god of sound.
The benefit to visit here improved by various arts, Education fulfillment and love fulfillment.
Meals
Time
Schedule
EBISU / RAKUMANJI

The only Japanese god in Shichifukujin.
The reason we have a fishing rod, this is because it represents a humble feeling of fishing one by one without using the net.
The benefit is Prosperous business, Disaster relief invitation and good harvest.
Meals
Time
Schedule
DAIKOKUTEN / JOFUKUJI TEMPLE

Indian God of Foods.
It has a small gavel and if you shake it, It's said that your needs and wishes will come true.
Benefits are rich harvest, family production, offspring prosperity.
Meals
Time
Schedule
FUKUROKUJU / NARITA YUME FARM

The hermit god who existed in China.
The age is said to be 1,000 years old. It is said that life of people is written by hermit god.
Benefits are good fortune, longevity extension, inviting people.
Meals
Time
Schedule
NARITA YUME FARM

With rich ice cream! & Shopping time!
Enjoy gift shopping.

*Tour does not enter Narita Yume Farm.
Meals
Time
Schedule
HOTEISON / SHOGANJI

A real god of Chinese monks.
It has a large bag, and people believe that it received people's worries and packed in the bag.
Benefits include sickness, health and longevity.
Meals
| | |
| --- | --- |
| Time | 14:00 Arrv. |
| Schedule | Narita Airport |
| Meals | |
Remarks
≪Cancellation Policy≫
※ Between 10day~8day prior … 20% of the travel fee
※ Between 7day~2day prior … 30% of the travel fee
※ A day before … 40% of the travel fee
※ On the day … 50% of the travel fee
※ No contact non-participation・After travel start … 100% of the travel fee
Active Provider : GREEN TOMATO CO., LTD